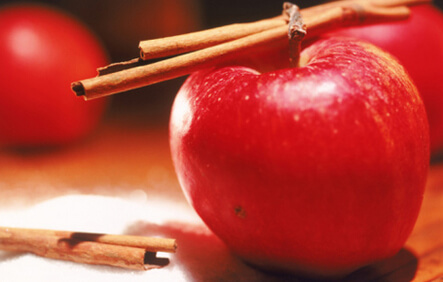 What says comfort like a warm baked apple with cinnamon and nutmeg? This scrumptious treat will please the kids — without the sugar of traditional desserts. Great to get your kids hooked on!
Baked Apple Recipe Summary
Cuisine: American
Course: Dessert
Skill Level: Easy
Makes: 2 Apples
Servings: 2
Prep Time: 10 minutes
Cook Time: 10 minutes
Ingredients
2 large firm apples [Rome and granny smith apples hold shape well]
2 teaspoons cinnamon
½ teaspoon nutmeg
¼ cup crushed or silvered almonds or walnuts
1 cup raisins, soaked in hot water until plump
¼ teaspoon sea salt
1/3-cup honey
Nutritional Information
Calories: 133
Protein: 1
Fat: 4
Sodium: 182
Carbohydrates: 26
Fiber:
Sugar:
Cholesterol:
Directions
Preheat oven to 350 degrees.
Use an apple corer to remove the stem and seeds of the apples.
Place in a nonstick pan that has been coated with butter-flavored nonstick spray.
In a small mixing bowl combine remaining ingredients.
Spoon into center of apples.
Bake in 350 oven until apples are tender.
Remove from oven and let rest for a few minutes.
Serve with vanilla yogurt or fresh raspberry puree.