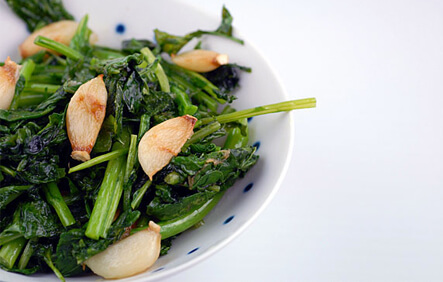 Broccoli rabe is a traditional Italian vegetable related to both the cabbage and turnip family. It's a bitter vegetable with 6- to 9-inch stalks and scattered clusters of tiny broccoli-like buds. Sautéing it in garlic is a great way to mellow the bitterness.
Broccoli Rabe with Garlic Recipe Summary
Cuisine: American
Course: Side Dish
Skill Level: Easy
Makes: 4 Cups
Servings: 4
Prep Time: 5 Minutes
Cook Time: 10 Minutes
Ingredients
1 bunch broccoli rabe, trim off tough stems on bottom
2 Tbls olive oil
10 garlic cloves
1/4 tsp celtic sea salt
1/4 tsp black pepper
Nutritional Information
Calories: 190
Protein: 7
Fat: 9
Sodium: 260
Carbohydrates: 25
Fiber: 12
Sugar: 4
Directions
Heat oil in a large skillet.
Add garlic to skillet and cook over medium heat until lightly browned, a few minutes.
Add the greens to skillet, and cook until wilted.
Sprinkle with salt and pepper.
Transfer to a bowl and serve.