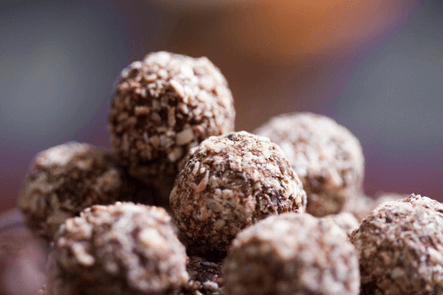 Make these delicious chocolate vegan truffles for your party and watch them disappear. These decadent morsels are a great example of how dessert doesn't have to be filled with empty calories.
These truffles are made with cashews and bittersweet chocolate (vegan), rolled in unsweetened cocoa powder and raw, toasted coconut. They are very low in sugar, and packed with protein, fiber, healthy fats and antioxidants. Simple to make by yourself or with your family. Enjoy!
Decadent Vegan Truffles Recipe Summary
Cuisine: American
Course: Snack
Skill Level: Easy
Makes: 50 Truffles
Servings: 25
Prep Time: 10-15 minutes
Cook Time: 10 minutes
Ingredients
3/4 cup raw cashews
3/4 cup cold water
1 lb bittersweet chocolate
Cocoa powder
Unsweetened toasted coconut
Nutritional Information
Calories: 166
Protein: 3
Fat: 11
Sodium: 5
Carbohydrates:
Fiber:
Sugar:
Cholesterol:
Direcitons
Place cashews and cold water in a blender and blend at high speed for 1-2 minutes.
Scrape the sides down and blend again until the mixture is the consistency of heavy cream.
Meanwhile, in a double boiler heat the chocolate until it's all melted.
Cool the chocolate until it's comfortable to work with (about 5 minutes) and fold in the cashew cream (making sure not to stir too fast or you'll create bubbles).
Cover and cool in the refrigerator for 2 hours to set.
Using a teaspoon, scoop out a small ball and roll in cocoa powder. Repeat until all has been formed into balls.
If not eating right away, store truffles covered in refrigerator. Remove about 20 minutes before ready to serve to bring to room temperature.