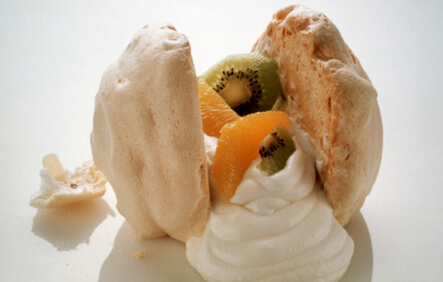 Meringues nests can be a part of your family celebrations because they can be made into wonderfully fanciful desserts. Heart-shaped meringues sprinkled with sugar for Valentine's Day, while the Christmas Yule-log cake can sprout several meringue mushrooms. In the summer, baby christenings can be marked with a meringue bird's nest filled with fresh fruit and whipped cream. Use your leftover egg whites to create alphabet letters and kisses for little hands helping in the kitchen.
Fun Meringue Nests Recipe Summary
Cuisine: French
Course: Dessert
Skill Level: Moderate
Makes: 6 Nests
Servings: 6
Prep Time: 15 minutes
Cook Time: 1 hour 20 minutes
Ingredients
6 egg whites
Pinch of salt or cream of tartar
1 cup superfine sugar
1 teaspoon vanilla extract
3 cups fresh seasonal berries, for garnish
Nutritional Information
Calories: 289
Protein: 27
Fat: 0
Sodium:
Carbohydrates: 46
Fiber: 2
Sugar: 42
Cholesterol:
Directions
Preheat the oven to 200F.
Line a baking sheet with parchment paper.
Using a small bowl as a guide, draw six 4-inch circles on the paper.
In a large mixing bowl, beat the egg whites and salt or cream of tartar until foamy.
Gradually beat in the sugar, beating until the egg whites are glossy. Beat in the vanilla until just blended.
Place the meringue mixture in a pastry bag fitted with a 1/2 inch decorative tip. Pipe around the outline of the parchment circles, then fill the circles in completely. On top of the meringue circles, pipe around the edge, creating sides for the "nest."
Place in the oven and bake for 1 hour and 20 minutes, or until the meringue is dry.
Turn off the oven and leave overnight to allow the meringues to dry completely.
To serve, fill with your choice of ice cream, fresh fruit and berries, chocolate mousse, sorbet, etc. (Ice cream-filled meringues can be prepared ahead and kept in the freezer until serving time.)
Garnish with fresh berries and serve.
To store empty meringues for later use place in a paper bag and keep at room temperature.
Variations
To make a chocolate meringue, add 3 tablespoons of cocoa powder to the sugar mixture.
For a nutty flavor, gently add 3 teaspoons of ground roasted hazelnuts after the sugar.