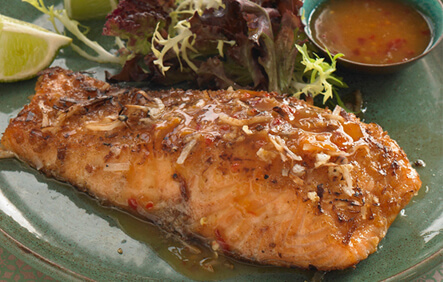 This coconut-crusted salmon is the kind of fish dish that's seen on menus at high-end restaurants, yet this recipe is surprisingly easy. It's quick enough to whip up any time you crave a special treat. The Asian-inspired crisp topping of coconut and Japanese tempura-style bread crumbs contrasts beautifully with the flaky, nutrition-rich salmon.
This is the perfect time to use your favorite cast-iron skillet, which will go seamlessly from stovetop to oven. A light drizzle of Coconut Chile Sauce makes a beautiful presentation and tastes sublime.
Scrumptious Coconut-Crusted Salmon Recipe Summary
Cuisine: Japanese
Course: Entrée
Skill Level: Easy
Makes: 6 Salmon Fillets
Servings: 6
Prep Time: 10 minutes
Cook Time: 16 minuts
Ingredients
1/2 cup shredded unsweetened coconut
1/4 cup panko (Japanese-style) bread crumbs
Salt and freshly ground black pepper
6 skinless salmon fillets (6 ounces each), preferably line-caught wild salmon
2 tablespoons fresh lime juice
2 tablespoons peanut oil
Nutritional Information
Calories: 544
Protein: 45
Fat: 32
Sodium: 135
Carbohydrates: 11
Fiber: 4
Sugar: 2
Cholesterol:
Direcitons
Position a rack in the middle of the oven and preheat to 375 degrees F.
Combine the shredded coconut, panko, 1/2 teaspoon salt, and 1/4 teaspoon pepper in a small bowl. Toss well, and then spread the mixture on a plate.
Brush the top side of the salmon fillets with the lime juice. Lightly season the fish with salt and pepper. One piece at a time, dip the top side of each fillet in the coconut-panko mixture, making sure the surface is coated. Pat the mixture onto the fish, if necessary.
Set a large, heavy-bottomed skillet (preferably cast-iron) over medium heat. When the skillet is hot, add the peanut oil. Arrange half of the salmon fillets, coconut side down, in the skillet and cook for 3 minutes to sear the fish and brown the topping. Carefully flip the fish over and cook on the other side for 3 minutes. Using a spatula, transfer the fish to a baking sheet. Repeat with the remaining 3 fillets.
Transfer the baking sheet to the oven and bake until the salmon is just firm to the touch and the interior is nearly opaque but still moist, 2 to 4 minutes depending on the thickness of the fish. (Alternatively, use an instant-read thermometer; the fish is done when the thermometer registers 130 degrees F when inserted into the thickest part of a fillet.)
Place each fillet of salmon on a warmed plate.